Invisalign
---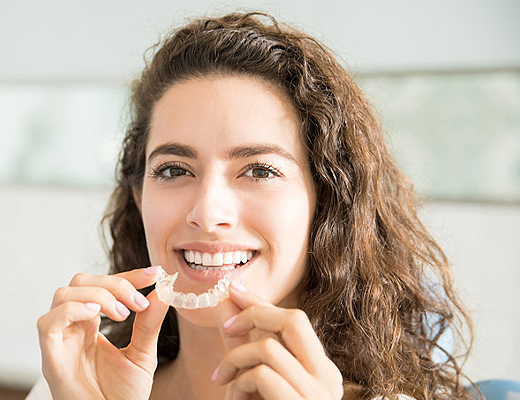 Invisalign is an orthodontic treatment that uses clear aligner trays to straighten teeth. Patients choose Invisalign to correct their smile and improve their dental health like traditional braces. However, unlike braces, these clear aligners are clear, discreet, and removable.
How Does the Process Work?
Invisalign treatment starts with an initial consultation. This is to answer your questions, talk about the process, and determine if you're a good candidate for the dental service. If Invisalign is the right fit, the orthodontist will develop a personalized treatment plan. They will then take x-rays, photographs, and impressions of your teeth. Next, this information is sent to Invisalign to create your aligner trays. Your aligners will then be shipped straight to you, and you'll also receive detailed instructions on how to wear them, what to avoid, and more.
Once you receive your aligners, wear them right away. You may get the entire set of trays to use for the duration of your plan. You'll have routine checkups with the orthodontist throughout your treatment to ensure everything looks good.
Benefits of Invisalign
Most people will say the appearance of Invisalign is the leading benefit of the orthodontic device. Many people don't even notice them at all! Secondly, you'll be able to eat and drink as normal, which you don't get with standard braces.
Comfort is another one of the top benefits of Invisalign. They're extremely comfortable to wear without any brackets or wires getting in the way. You also take them off when brushing and flossing, allowing you to care for your dental health properly. These tasks are nearly impossible when wearing traditional braces.
Trusted Invisalign Treatment in Fort Myers, FL
If you're ready to experience straighter teeth without using metal brackets and wires, try Invisalign today! Here at Richards & Associates Orthodontics, we're proud to have some of the top orthodontic experts in the industry. We're ready to help you correct your smile!
Contact us today to receive exceptional Invisalign treatment in Fort Myers, FL.
Sources
www.ddsgroupnyc.com
www.luvbraces.com